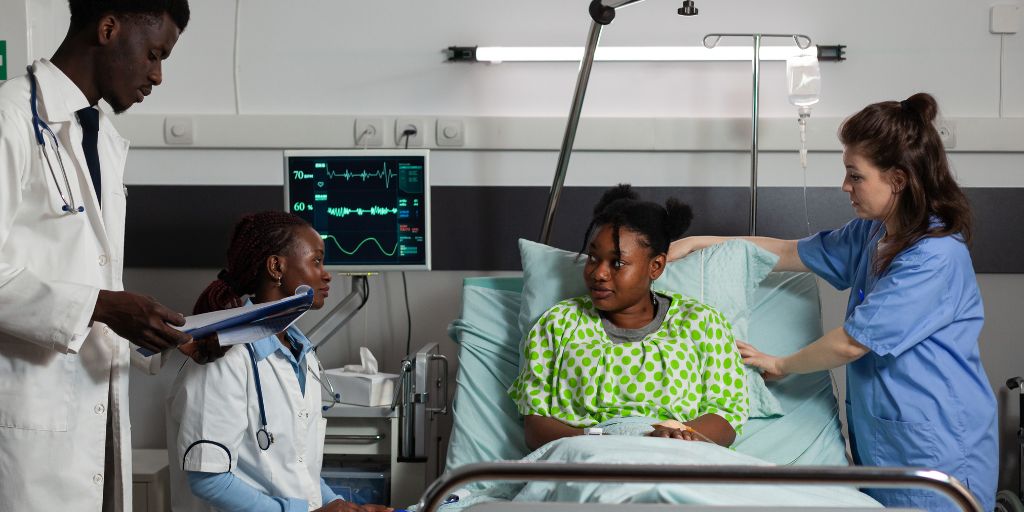 Founded in 2020, Teton.ai is building assistive technology for nurses to support their workflow and ensure more targeted patient care
The next-generation workflow automation and patient monitoring tool uses sensors and AI to provide a holistic and dynamic understanding of patient needs
Early results point to the technology removing 25% of the workload nurses face during night shifts
New funding will be used to grow Teton's team to enable international expansion to help solve the global nursing shortage
Teton.ai, the health tech startup building an AI companion for nurses to help monitor patients and optimise workflows, has raised $5.3 million in funding led by Plural. Teton will use the funding to expand its engineering and commercial teams to help roll out the product in Denmark and internationally.
Countries around the world are grappling with acute nursing shortages, which are predicted to reach up to 13 million by 2030. Last year, the International College of Nurses called the lack of available nurses in the workforce a new "global health crisis". Nurses face physically demanding shifts of up to 12 hours and patient care now also encompasses mounting admin work. With nurses suffering from exhaustion and burnout, a lack of support on the ward can lead to lapses in patient care and in the worst cases serious issues can be missed.
Teton.ai was founded to solve these challenges for nurses at scale by taking AI and computer vision onto wards to give nurses tools that can help monitor patients in real-time and keep on top of paperwork. Smart cameras are installed on wards which can scan the room for updates and patient activity which are then fed back into a web app to alert nurses when care is needed. The AI assistant acts as an extra pair of eyes and ears so nurses can focus on delivering high-quality care.
Supportive AI on the ward
Teton's AI was trained using hospital data sets as well as feedback from nurses to provide the right support for clinicians facing high volumes of work. It provides a holistic and dynamic understanding of the ward, helping to reduce workloads for staff. The cameras use computer vision to understand the patient's status and communicate relevant information back to staff. This will include sleep tracking to minimise having to wake a patient, bed sore or ulcer warnings and mobilisation reminders to move patients regularly, fall warnings with alerts for high-risk situations and regular documentation of activities to reduce the administrative pressure on nurses. To ensure patient confidentiality and privacy, analysis takes place within a closed system and no personal data is uploaded to a central server.
The startup aims to use technology to eliminate unnecessary and sometimes false alarms by providing real-time alerts for nurses when a patient's behaviour requires direct or critical care. In particular, Teton's nurse assistant has already proven invaluable to nurses carrying out night shifts, when there are only one or two staff present on the ward and more pressure on a solo carer. In early trials of the technology at hospitals and care homes across Denmark, Teton's nurse assistant has helped to reduce night shift workload by 25% giving nurses more control and more time for their patients.
Strategic angels including Finn Murphy, formerly at Frontline Ventures, also joined Plural in investing in Teton.
Technology revolution to solve healthcare challenges
Teton.ai is part of a wider wave of startups applying technology to solve shortages and challenges in the healthcare sector which have only been exacerbated by the Covid-19 pandemic and a growing ageing population. The European medtech market was worth €150 billion in 2021 and is second only to the US in size and demand. From using AI to speed up clinical trials to robotic hands during surgery, this technology is helping to make patient care more efficient.
In Denmark, Teton.ai is already working with hospitals including Nykøbing Falster Hospital and Næstved Hospital. Teton.ai expects to have over 25 employees by the end of the year and plans to expand beyond its home market of Denmark to the wider Nordic region, as well as further into Europe including Germany, the UK and US. Eventually, the company will build a full virtual nurse to support critical healthcare workers wherever they are in the hospital.
Mikkel Wad Thorsen, co-founder and CEO of Teton.ai, said: "Countries across the world are facing problems with staff shortages in both hospitals and the wider care sector. This problem is only getting bigger with pressures mounting to provide high-quality care to a growing ageing population. Our AI solution, which has privacy integrated into the design, gives nurses more time to take care of patients and residents, without burdening their workload. We're excited about the impact this will have globally and look forward to working with the Plural team to help us scale up and expand in the next few years."
Taavet Hinrikus, who led the investment round at Plural Platform, said: "Growing demand from an ageing population and shortage of supply of trained staff are the two big issues creating challenges in healthcare systems around the world. In line with Plural's ambition to solve hard problems, we see huge potential for Teton.ai as a European-founded company building an AI-assisted technology platform to support nurses to provide better patient care. Teton's mission is vital and we are thrilled to be working closely with Mikkel, Esben and the team."