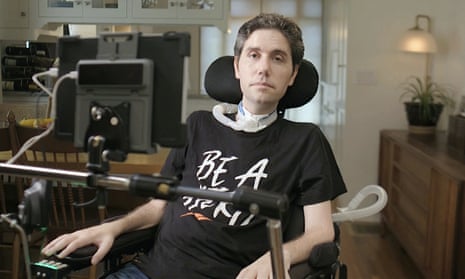 Ady Barkan, activist who fought for US healthcare overhaul, dies aged 39
Barkan was diagnosed with ALS in 2016 and said his illness clarified the 'cruelty of our profit-driven system'
Ady Barkan, an attorney and healthcare activist whose journey with motor neuron disease prompted a fight to overhaul the US healthcare system, has died at the age of 39 from complications with amyotrophic lateral sclerosis (ALS).
Barkan's wife, Rachael Scarborough King, announced his death in a post to X, formally known as Twitter.
"You probably knew Ady as a healthcare activist. But more importantly he was a wonderful dad and my life partner for 18 years," wrote King.
"Ady fought for the 24/7 care he needed to be home with us until the end of his life," King added, thanking Barkan's caregivers and "their labor and care, which allowed us to live as a family through Ady's health challenges".
"Everyone should have that chance," she said.
Barkan was first diagnosed with ALS in 2016 at the age of 32, the healthcare advocate wrote in a 2022 piece for the Guardian.
The progressive degenerative illness targets nerve cells in the spinal cord and the brain. The disease is often terminal, with those diagnosed usually having a three to five year survival rate.
Barkan lost his ability to walk and was unable to eat, speak or breathe on his own without the use of a ventilator machine.
Since his diagnosis, Barkan said that he became acutely aware with the issues regarding the US healthcare system, especially for those dealing with a serious illness.
"I knew that US healthcare was broken before my diagnosis, but having a serious illness clarified the cruelty of our profit-driven system," Barkan wrote.
Barkan's health insurance company denied coverage of critical medical supplies, including a ventilator and a FDA-approved ALS drug.
He was only able to pay for his round-the-clock care after suing his insurance company in federal court, and with the help of friends who covered part of his care.
"It shouldn't take a team of lawyers, an experienced activist, and the generosity of friends and strangers to get the healthcare you need to survive," Barkan wrote.
Barkan used his experience to advocate for universal healthcare and a complete overhaul of the US healthcare system.
Barkan first went viral in 2017 after confronting the former Arizona senator Jeff Flake about Flake's support of tax cuts that would cause healthcare costs to soar, an encounter that was filmed by organizer Liz Jaff.
"Think about the legacy that you will have for my son and your grandchildren, if you take your principles and turn them into votes," Barkan said to Flake.
"You can save my life," Barkan said.
In 2018, Barkan co-founded the non-profit Be A Hero, an organization working to expand access to healthcare amid other political priorities. Jamila Headley, the organization's co-executive director celebrated Barkan's life and work in a post to X.
"It's hard to imagine a world without [Ady Barkan] learning, strategizing, fighting, and laughing alongside me but his work lives on in [Be A Hero] and the powerful movement of patients we are building," wrote Headley.
His activism was subsequently documented in the 2021 documentary Not Going Quietly, which showed his May 2019 testimony to Congress about his family's struggles to afford his care.
Speaking through a computerized device, Barkan told lawmakers that his family paid $9,000 a month out-of-pocket to cover the remainder of his care.
"We are cobbling together the money, from friends and family and supporters all over the country," he said to Congress. "But this is an absurd way to run a healthcare system."
Barkan is survived by his wife Rachael and their two children.
Explore more on these topics