Woman Spreads Awareness on Bone Disease, Shares Terrifying Battle with Curved Spine
Facebook user Pia Lim spreads awareness and recounted her battle with Scoliosis six years ago.
Lim said that it was the seamstress who noticed something unusual on her back. She had it checked by a doctor, and was diagnosed with 15-degree Thoracolumbar Dextroscoliosis.
Scoliosis, a form of bone disease, which often occurs when a person's spine curves into a C or S form.
It is one of the most frightening illnesses a person can have as there are high chances that it may develop into something worse and might require the use of Milwaukee braces. In worst scenarios, a patient might need to undergo operation, specifically spinal fusion.
Scoliosis doesn't really have a specific cause, but the suspected reasons for having the same illness are usually caused by muscular dystrophy, birth defects, injuries and more.
A person might have this illness if they have uneven shoulders or a hump in the back when a person bends down.
If you're still not convinced that you should take this illness seriously, read what Pia Lim shared about her struggle with curved spine.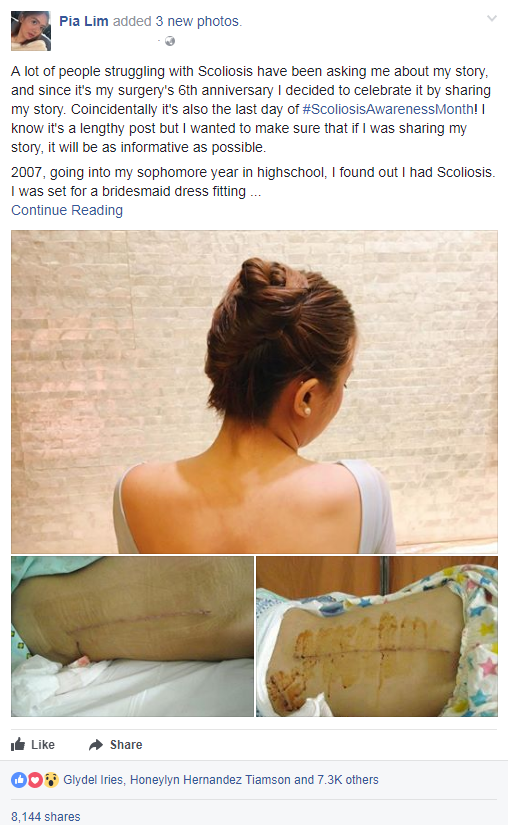 Lim shared her story on Facebook and was read by a lot of netizens, including those who have the same illness.
Read her full story below:
"A lot of people struggling with Scoliosis have been asking me about my story, and since it's my surgery's 6th anniversary I decided to celebrate it by sharing my story. Coincidentally it's also the last day of #ScoliosisAwarenessMonth! I know it's a lengthy post but I wanted to make sure that if I was sharing my story, it will be as informative as possible.
2007, going into my sophomore year in highschool, I found out I had Scoliosis. I was set for a bridesmaid dress fitting for my Tita's wedding and the seamstress noticed I had an uneven back. Later that day, I went to have it checked and was told I had a 15 degree Thoracolumbar Dextroscoliosis. It was nothing serious, just formed what looked like a C curve on my spine."
Lim shared that a seamstress was the one who noticed that her back was uneven. She didn't ignore what the seamstress said and had herself checked later that day.
After the results came out, she was diagnosed with Thoracolumbar Dextroscoliosis.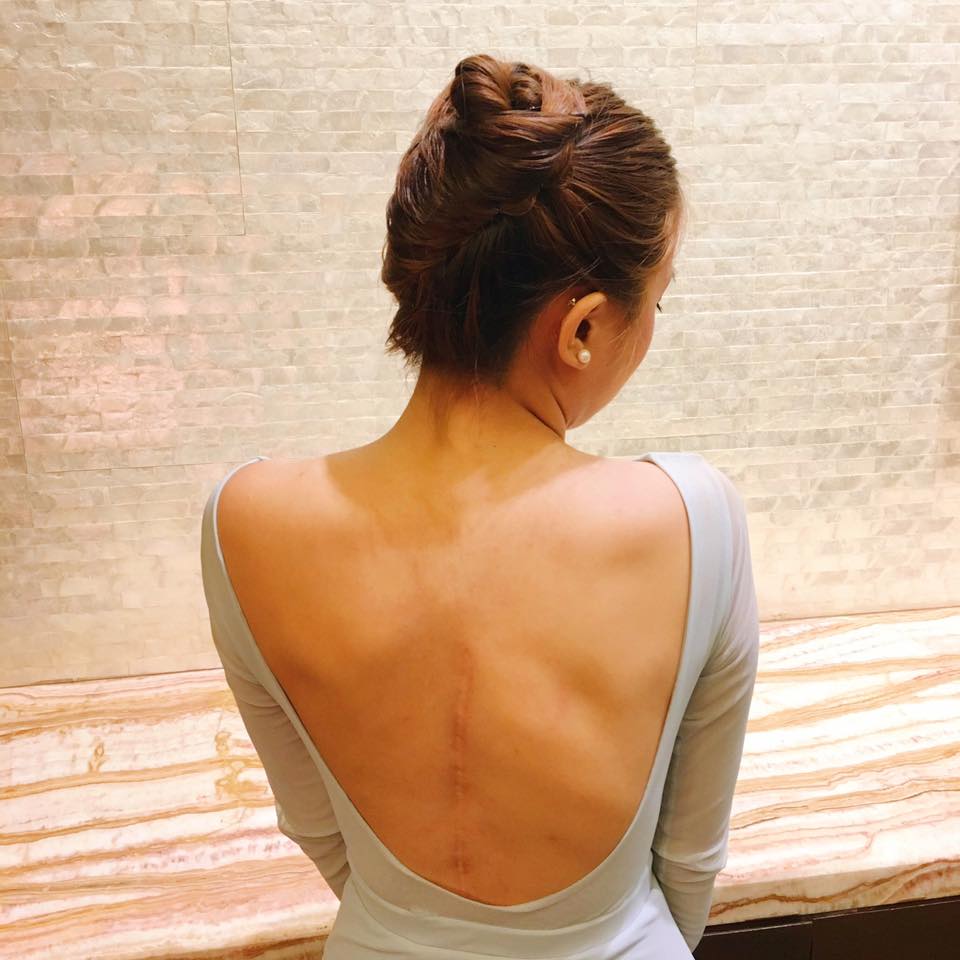 "I was advised to get therapy sessions since the doctor didn't think I needed a brace yet. I tried two different ones – I started at Casa Medica, but I've had most of them at Tokyo Healthlink. I would go after my classes for about 2-3 times a week and it usually lasts for one and a half hour. These therapy sessions would start with the PT putting hot compress on my back, proceeding with an ultrasound, a massage, and then I would be exposed to a machine called TENS that emits electrical stimulation, ending with a series of exercises I had to do depending on the curve. I had Dextroscoliosis which meant that it leaned towards the right side so all my exercises were going to the right. I made sure I did the exercises religiously at home too hoping the curve wouldn't progress.