Woman Spreads Awareness on Bone Disease, Shares Terrifying Battle with Curved Spine
I thought the therapies/rehabilitation sessions were helping but the pain only got worse. I remember one time in cheerleading training when my back pain was so intense I ended up crying (I know some people might say cheerleading was what probably caused my condition to worsen but according to my surgeon, nothing could have prevented the progression. It was just sheer luck.)"
Lim engaged herself in therapy sessions to prevent the curve in her spine to get worse and religiously did the exercises at home. Until she discovered that the rehabilitation sessions weren't helping at all.
"There were also times when I would have trouble sleeping because I had extreme back pains or my rib would hurt and I would have trouble breathing. Another struggle I had to go through with was self esteem issues – I had uneven shoulders and I refused to wear fitted clothes and swimsuits, because one side of my rib was protruding or my back hump was obvious. I did all I can to hide it but of course some people would still notice time and time again. There were comments coming from people, sometimes even from my friends and relatives – unaware of what seems like a joke to them was already affecting me negatively. But beyond the obvious symptoms of Scoliosis that everybody can see, more than the physical pain is the emotional battle that we have to go through fighting our insecurities.
2011, by this time, I was diagnosed with Thoracic Levoscoliosis and Thoracolumbar Dextroscoliosis. That meant that I already have 30 degrees on my upper back and 44 degrees on my lower back. My C curve already looked like an S curve. Unfortunately my curve wasn't showing any signs of slowing down. My scoliosis can start compressing my internal organs – it was starting to affect my lungs which caused difficulty in my breathing, I had to get a surgery."
The pain started to affect her day to day routines and developed self-esteem issues. Later on, Lim found out that her scoliosis has already progressed and gotten worse.
Unfortunately, she needed to undergo into spine fusion as the scoliosis was already affecting her organs.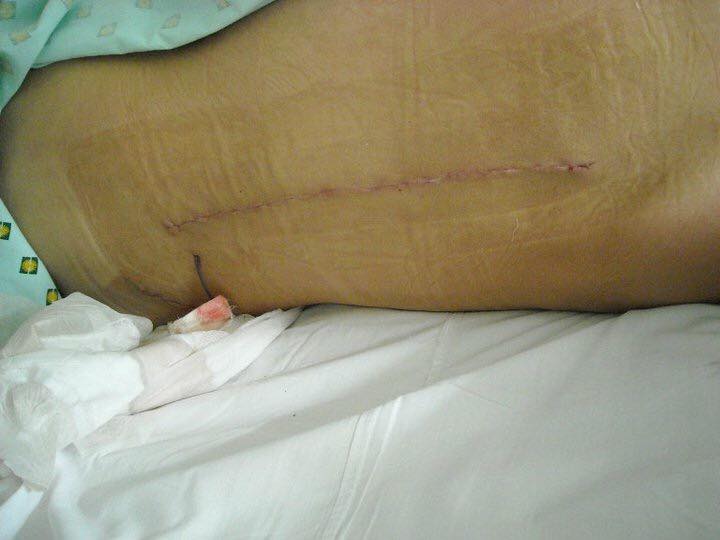 "My family initially didn't want me to go through with it, so my surgeon made sure to inform me of another option which was to wear braces for 23 hrs everyday for an undetermined period of time. I didn't think that that was an option I wanted to take. I just really wanted the pain to be over. I started preparing for my surgery wherein I had to have blood tests, lung tests, xrays, and an ECG.
At exactly 6AM of June 30, 2011 I was wheeled towards the operating room. 10 hours, 22 metal screws, two rods and 12 hours at the recovery room later, my spinal fusion was a success.
I spent 11 days at the hospital bedridden, I had to learn how to walk again. My hip hurt because they had to graft a bone from there and then fuse it on my spine to help the vertebrae heal together in a solid bone. I also developed a super itchy cough a day after the surgery from being intubated and I really had trouble coughing because I feared my stitches would open."
She was offered with two options: first was to wear braces for 23 hours a day, and the second one was to do the surgery.
Lim chose the latter and bravely endured the 12-hour operation.
"For me, the recovery period was the hardest part of the surgery. I had to take 10 minute walks every morning and had to keep track of how long I would be sitting down. Another challenge was strengthening my lungs again using a small plastic machine called Spirometer that I have to blow every day.
Fast forward 6 years later, I stumbled upon a very helpful and informative group here called Scoliosis Philippines and it's sad that I had to realize how lucky I must have been when I read about a scoliosis warrior named Agatha De Ocampo who died days after her scoliosis surgery. To be honest, I used to take my surgery for granted. I wasn't afraid that things could go wrong because it didn't for me.
I was then reminded again of how blessed I was that I've had the means to have a surgery. I learned from the posts on Scoliosis Philippines that many people still do not have any access to proper medication, consultations, or even just awareness. Despite the cost, the risk of paralysis, the danger of losing my life, and the complications it would entail, my spinal fusion was and still is the greatest part of my life so far. I've come to realize every now and then that I had to give up and sacrifice a lot after my surgery. I've been presented with a lot of moments where I end up asking myself if I regretted saying yes to having surgery. The fact is, until now, I'm still discovering more activities that I want to do but can no longer experience (such as cliffdiving and canyoneering). However, the relief that I have now knowing that this disease can no longer hurt me cannot amount to the pain and sacrifices that I had to be put through."
Even though Scoliosis is preventing Lim from doing things that would give her a good feeling, she is still thankful that the disease won't be bothering her anymore. For her, that realization is more worth it than having to go through the same pain she used to endure back in the day.
"So please, do not take your Scoliosis for granted. I am posting about my journey so that more people will be aware of theirs. I'm not here to idealize my journey, but I do wish I had something like this to read back when I was so clueless about the risks or even just anything about Scoliosis. I realize now that, while it might not be as worse as the other ailments out there, it still shouldn't be taken lightly. My previous condition might not be your condition yet, but it doesn't mean there's no chance it's not gonna be your story two or three years down the road.
Please get your spine checked and do not be shy nor scared about it! Be brave and seek help. Make sure that you have a support system!!! I cannot count in my fingers the times I've had to go through xray sessions and all sorts of tests that if I didn't have my Mama with me, I don't think I would've been that chill and okay all throughout the entire process. I hope those who are enduring the pain doesn't go through it alone and I hope another Scoliosis warrior gets inspired to keep fighting and not lose hope. Monitor and know about your condition. We are lucky to be living at a time when technology is so advanced so we must be maximizing and utilizing everything in our disposal.
One way of knowing if you have scoliosis is by bending down and having somebody check if you have a "back hump". By then you can go to a hospital for a consultation and then get a series of xrays. It doesn't necessarily have to be from a private hospital. Here are a few hospitals that offer FREE spinal consultation and assessments (from Scoliosis Philippines):
Philippine Orthopedic Center
Banawe St. Quezon City
http://poc.doh.gov.ph/