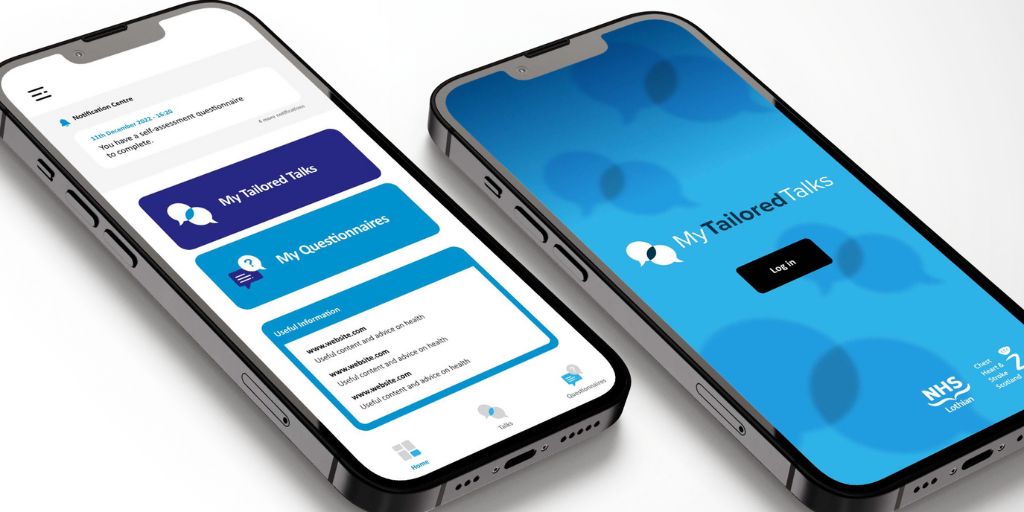 MyTailoredTalks is an innovative app created by Pogo Digital Healthcare, which was launched in 2022 to provide support and information for people living with Long COVID. Since the outbreak of COVID-19 and the subsequent pandemic, Long COVID has affected millions of people in the UK. Care for people living with the condition has been difficult to provide, due to a general lack of information and understanding of the condition.
Organisations such as Chest Heart & Stroke Scotland (CHSS) and NHS Lothian have established several channels of support for people living with Long COVID, including an Advice Line provided by CHSS, but struggled to get referrals from GPs. In the meantime, the care gap for Long COVID patients in Scotland has widened.
MyTailoredTalks for Long COVID creates a digital solution in app form, which enables people living with the condition to receive support, tailored information and advice. The service underpins a brand-new care pathway, not only giving people living with Long COVID access to valuable support and information but also reducing pressure on GPs by providing an easy and fast route of referral, thereby reducing repeat appointments.
The app features a self-assessment questionnaire, which upon completion triggers the system to share personalised multimedia presentations containing information relevant to the patients' answers. The presentations contain information on the most common symptoms of Long COVID, such as breathlessness and fatigue, as well as other information on practical topics such as return to work and financial support. It is thus designed to personalise information for patients, allowing them to better understand their condition and the support available to them, while simultaneously saving time for clinicians.
The app also includes an option for patients to receive a call-back from the CHSS Advice Line, enabling them to speak to a professional who can help to guide them through recovery. Patients can refer back to the app at any time, track their symptoms and request information on new concerns throughout their recovery. The solution is currently being rolled out across Midlothian following a successful pilot with NHS Lothian, with 28 participating GP practices and over 210 patients now onboarded onto the system. The positive outcomes of MyTailoredTalks are highlighted clearly in patient and clinician feedback; when asked about attitudes and perceived effectiveness of the programme, the majority of patients answered positively:
"It felt very supportive to speak to someone from CHSS and know that someone understood and was sympathetic to what I was going through. Having this service is a must for people in my situation. We all need that support." – Chloe, 26
"The site was easy to use…it was short, it was succinct, and it was great advice." – Mike, 58
"I got great help, especially in learning the breathing exercises and how to use my lungs properly. I'd recommend the service to anyone. In fact, my neighbour had COVID, and I told her all about the service, about the breathing and how to plan your day." – Catherine, 67
The pathway continues to be rolled out for Long COVID, with the NHS project team now looking to make the app and service available in East and West Lothian. The Pogo Digital Healthcare team, together with partners at NHS Lothian and CHSS, are working to make the service useable for other long term condition patients, such as those affected by stroke, cancer and COPD. This is an exciting time for the team as the potential uses of MyTailoredTalks multiply.
At a time when the NHS is known to be overstretched, the transfer of care through a digital product, from GPs to a collaborating set of Allied Health Professionals and other supporting staff members in the 3rd sector has proved to be an effective solution, with the comforting knowledge that patients can return to their GP at any time.