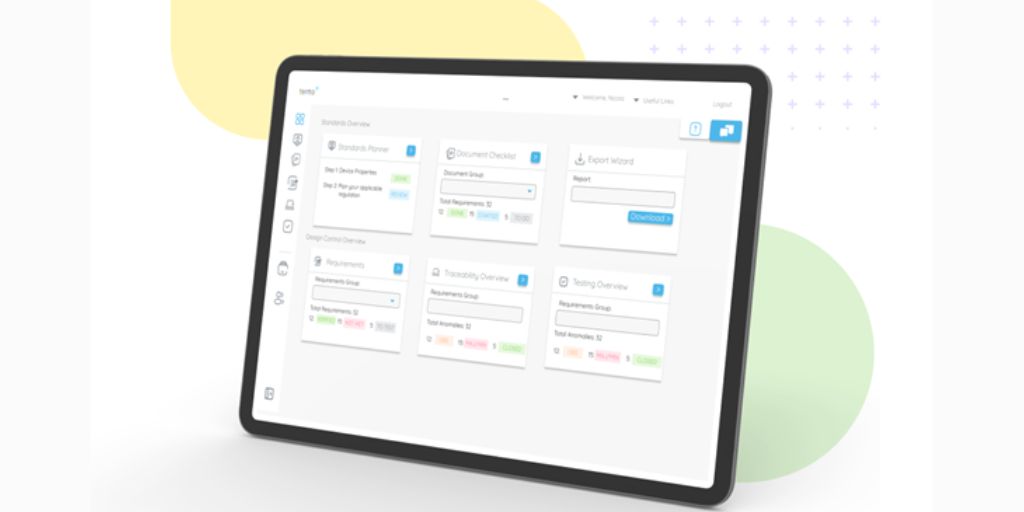 Purpose-led technology company, AND Technology Research, is today announcing new research revealing the potential cost and time-saving impact of its latest  iteration of its ground-breaking Tento+ testing dashboard.
Tento+ is on course to boost the MedTech market significantly as more medical devices are set to enter service across the world.
The medical device market as a whole has undergone consistent levels of growth over the past decade, and is projected to grow at a compound annual growth rate (CAGR) of 5.4% in forecast period 2021 – 2028. Currently, the World Health Organisation reports that there are an estimated 1.5 million medical devices globally, across more than 10,000 specific types. Crucially, 'Software-as-a-medical-device' (SaMD) now represents a market niche that is predicted to grow at a compound annual rate of 63%, considerably higher than the market growth rate as a whole.
To cater for the ever-growing demand for regulatory approval for new medical devices, AND Technology Research developed Tento+ to streamline the process using AI, for any business, large and small.
Tento+ is an intelligent algorithm-enabled tool to help guide and facilitate companies along the regulatory pathway; a one-stop-shop for companies looking to develop medical devices.
A knowledge base is held within Tento+, which is then used by an AI algorithm to highlight specific information to users about their unique regulatory requirements. When inputting a medical device, users can enter a target market and device type. Following this, any nomenclature is then changed and regulatory requirements are updated.
Users can also enter a statement of use and device description which, along with a simple questionnaire, informs the AI algorithms to help with classification of the device, presentation of the required quality standards, appropriate authorities and more.
In a recent trial of 5 projects using Tento+, the AND Technology Research team was able to calculate how much time (and money) Tento+ can save a company when working through the medical submission regulation process.
Time taken for projects using Tento+:
400 hours to construct tests scripts, perform tests, author construct test reports and other key documentation for Class IIb
110 hours (predicted) to construct tests scripts, perform tests, author construct test reports for Class IIa
76 hours to construct tests scripts, perform tests, author construct test reports and other key documentation for Class I
Previous timings without Tento+
550 Hours to construct tests scripts, perform tests, author construct test reports and other key documentation Class IIb
120 hours to construct tests scripts, perform tests, author construct test reports and other key documentation for Class I
Assuming an hourly rate range for consultants between £150 – £200 an hour, the AND Technology Research team sees a potential saving of £30,000 for Class IIb, and £9,000 for Class I submissions.*
Commenting on the trial findings, CEO of ANDtr, Dr Nicola Thorn said: "The potential of Tento+ is even bigger than we originally realised when developing the dashboard. The time and cost savings are even better than we first expected. 
"And when you consider the number of new and exciting innovations using Artificial Intelligence, Machine Learning, and Augmented Reality in the MedTech sector, the potential could go even further – it's certainly a key market to watch for the next decade. 
"Of course, the problem we have kept seeing is how much some innovators and engineers struggle in navigating the regulation process. There are many hurdles, so many complex considerations to make, and it bleeds businesses time and money. Tento+ is purpose-built to change this completely, no matter what size the business is or the application of the innovation. Tento+ provides efficient and speedy management of agile testing for regulation using AI-enabled analytics to ease the journey for engineers. I like to think of Tento+ as an engineer's new best friend. For each medical device, the user can easily access the required regulatory information, input and analyse technical information, and access AI assisted advice and guidance on the regulatory process, classification, and more."
Other Tento+ features:
Users will also be able to capture and analyse certain technical, risk and clinical information directly in Tento+. Users will then be able to record traceability matrices, testing records and anomalies as well as risk and usability controls. From here, users can automatically generate technical documentation such as test plans, test logs and records, software decompositions and software requirements for use within submissions to regulatory bodies.
Tento+ dashboard is a purpose-built web-based tool that enables developers, project managers, and test engineers to track, manage, and organise their product development and testing journey. The dashboard provides engineers with quick insights into the progress of their project as test scripts, anomalies, and the requirements traceability matrix are all accessible in one place. Thanks to end-to-end visibility across the software testing lifecycle, development teams can now easily map and visualise the relationship and test coverage of user requirements, software function, unit, and code.
As the world scrambles to respond to new challenges brought on in the past few years by Covid-19 and other global health challenges, Tento+ will serve as an example of how agile software management can bring the medical world into the future, rapidly. Increased agility removes multiple layers of obstruction to the product development process and can therefore speed up the creation of new medical technologies.
In a recent case, the dashboard was used successfully to accelerate the software testing of a ground-breaking 3D visualisation system developed by Norwegian start-up HoloCare. The HoloCare Studio provides clinicians with visualisation through 3D Holograms of a patient's organs, giving better insights into both heart and liver diseases prior to life-saving surgery.
Commenting on the effectiveness of the Tento platform, CEO of HoloCare, Alison Sundset said: "Tento has been a real game-changer for us. It makes the whole regulatory process so much more manageable and efficient. We look forward to seeing Tento's usage throughout the MedTech industry – it is exactly what we need to speed up these processes. We're looking forward to working with ANDtr on the next one!" 
* This is only one small part of the what is required for medical submissions as well. This is only for electronic, software testing and the related design/testing documentation that would be used as part of the design history file. It does not included QMS and clinical trials/studies for example.