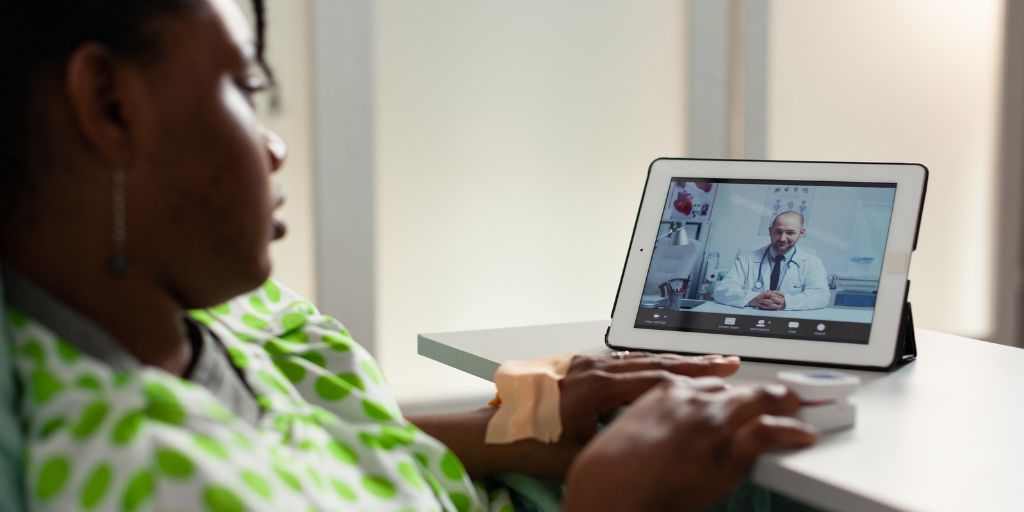 Since then, over 7500 patients have been supported through the Virtual Ward.
A Virtual Ward is a digital solution for clinicians to support patients in their homes. It is a 'wrap-around' service that ensures patients can quickly receive the care they need while reducing the need for avoidable hospital admission.
Patients are monitored using pulse oximeters and they submit daily readings. These readings are used to monitor any changes in patients and provide them with vital reassurance and clinical support in their treatment.
Baywater Healthcare is a CQC-regulated specialist provider of patient monitoring services and offers solutions to NHS patients to be monitored under a Virtual Ward. Baywater Healthcare's Virtual Ward is a web-based platform that allows patients and providers to access the same patient data from anywhere. Their platform has built-in alerts and reminders to help ensure that patients receive timely care and follow-up. In addition, the platform has cloud-based architecture making it easier to integrate with NHS systems, and advanced analytic capabilities make it easier to identify trends. Baywater Healthcare's system's intelligent workflow automation helps streamline the care process and reduce administrative burdens on clinicians. Through working closely with the NHS, they create bespoke, adaptable services to meet changing requirements.
Baywater Healthcare's solution is easy to use, cost-effective, and has positive outcomes for both patients and clinicians. Their Virtual Ward can monitor a wide range of wellbeing and conditions, including but not limited to frailty, respiratory, cardiac, learning disability, mental health, oncology, care homes, diabetes, and wound care.
Baywater Healthcare CEO, Adam Sullivan
"Digital health technologies have rapidly evolved in recent years, this includes telemedicine, mobile health apps, wearables, and remote patient monitoring devices. These technologies have the potential to improve patient outcomes, reduce healthcare costs, and increase access to care. With an aging population and the recent evidence of how stretched the healthcare system becomes during periods of winter pressure and pandemic, the need for in-home-based digitally enabled clinical supervision is an obvious path that can ease the workload in primary care. 
The development of our Virtual Ward services has evolved over a 15-year period, during which we have demonstrated a sustainable model for remote healthcare services that complement specialist clinical services. This ensures that all patients have a level of support that is applicable to their condition and that creates peace of mind for them and their families while allowing healthcare specialists to maximise their skills and resources across a wider group of people. 
At Baywater Healthcare, our experienced team engages in over one million patient interactions annually. We do so with respect and with empathy. This experience has been invaluable in designing our digital applications to ensure they are user friendly, yet suitably advanced to provide meaningful interaction and feedback to their healthcare provider."
Baywater Healthcare's Virtual Ward assists the NHS in significant cost savings by reducing hospital admissions. A case of this was when Baywater Healthcare collaborated with Gloucestershire CCG to develop and deliver a COVID Virtual Ward. The Virtual Ward service was rapidly mobilised within two weeks to provide the NHS with a remote solution to monitor their COVID-19 patients. The service was provided seven days a week to ensure someone was always contactable.
Baywater Healthcare Technicians completed doorstep drops and conducted three-way calls with patients to train them on the Virtual Ward platform. The service was inclusive to all; providing tablets, smartphones, and pulse oximeters for patients to submit readings. Readings were also accepted over the telephone to support patients who were not familiar or comfortable with technology and patients were supported to use their own devices. This assisted the NHS by reducing hospital bed requirements through a reduction in hospital admissions.
The Baywater Healthcare Virtual Ward has since been adapted to ensure it can monitor any long-term condition. Bespoke packages are available to meet the needs of patients and NHS, which include hybrid models of monitoring and Healthcare Technician visits to patient's homes.
The Virtual Ward was recently named an award winner at the Health Tech Digital Awards 2023. Winning the 'Best COVID-19 Software Solution to Support Virtual Clinics' award.
Users of Baywater Healthcare's Virtual Ward shared some great feedback. One patient stated, "It was very easy to submit readings, and knowing that someone was there keeping an eye on my state of health in case I took a turn for the worse was very reassuring. While another shared, "I am not sure I could have got through without the Virtual Ward team. They were amazing. Thank you for all your help and kind support from the bottom of my heart."
If you have any enquiries about Baywater Healthcare's Virtual Ward solution, please complete the contact form available on their website or message [email protected]