The 2.6 gigawatt (GW) Coastal Virginia Offshore Wind (CVOW) project – what will become the US's largest offshore wind farm – just got approved by the US Bureau of Ocean Energy Management (BOEM).
The BOEM completed CVOW's environmental review on September 25 and issued its Record of Decision today. This is the fifth commercial-scale offshore wind farm to be approved since the start of the Biden administration: It follows Vineyard Wind 1, South Fork Wind, Ocean Wind 1, and Revolution Wind.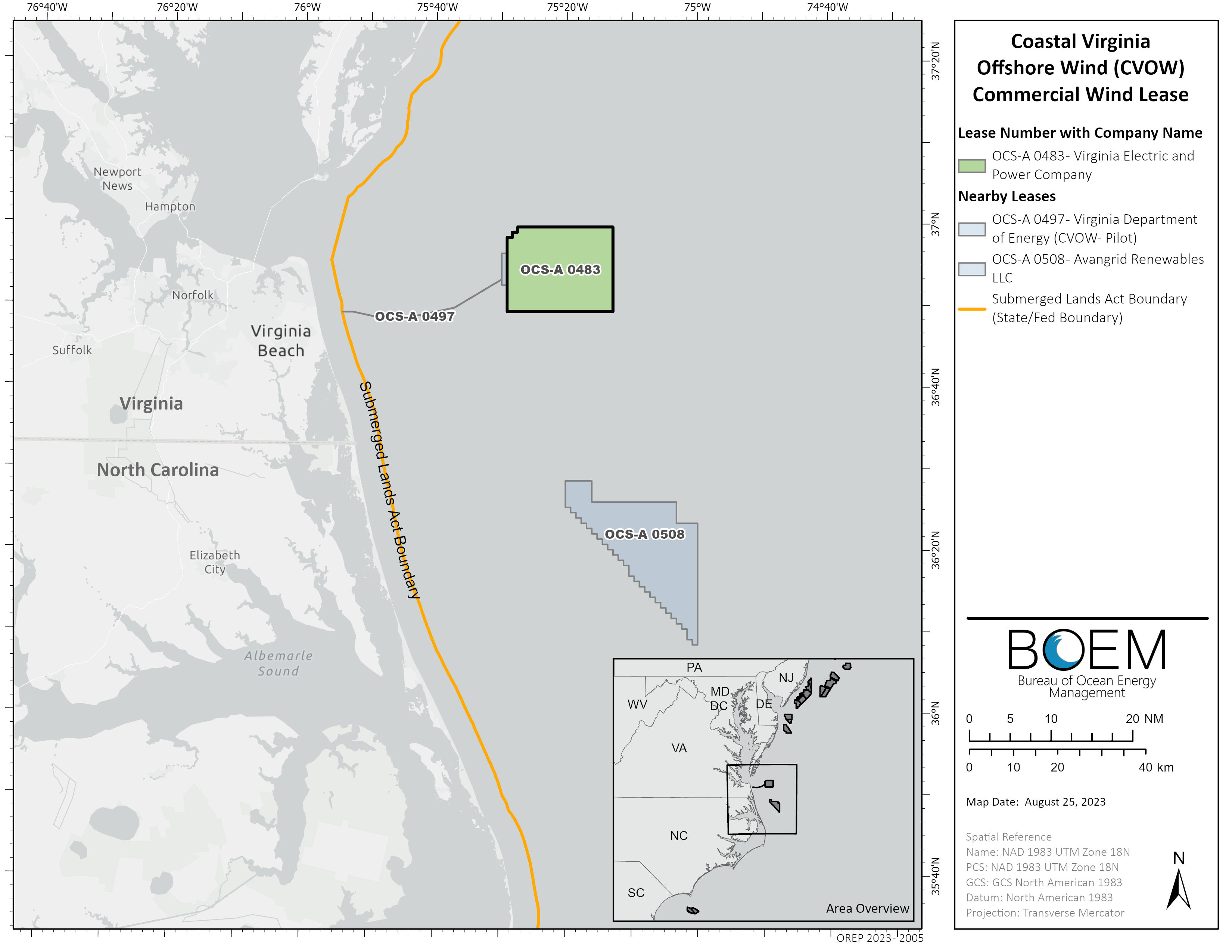 CVOW, which is being developed and will be owned by electric utility Dominion Energy, will feature 176 Siemens Gamesa 14 megawatt (MW) wind turbines, three offshore substations, and new onshore transmission infrastructure. Once construction is complete in 2026, it will provide clean electricity for around 660,000 households and will support 1,100 jobs.
A CVOW pilot made up of two 6 MW wind turbines (pictured above) has been running onsite since October 2020. The pilot is the first offshore wind installed in US federal waters.
On October 27, CVOW's first eight monopiles arrived in Portsmouth, Virginia, on a ship that sailed from Germany. Rostock, Germany-based EEW SPC made the offshore wind turbine monopiles – the steel tubes driven into the seabed – and it's going to manufacture all 176 monopiles for the CVOW project. Each will weigh 1,538 tonnes and have a diameter of up to 9.5 meters (31 feet). 
They'll be installed on CVOW's offshore wind site about 27 miles (43 kilometers) off the Virginia coast. Construction is scheduled to begin next year.
Read more: Underwater robots have been secured for the US's first floating offshore wind farm
Photo: BOEM-OPA, CC BY-SA 2.0 via Wikimedia Commons
---
If you're considering going solar, it's always a good idea to get quotes from a few installers. To make sure you find a trusted, reliable solar installer near you that offers competitive pricing, check out EnergySage, a free service that makes it easy for you to go solar. It has hundreds of pre-vetted solar installers competing for your business, ensuring you get high-quality solutions and save 20-30% compared to going it alone. Plus, it's free to use, and you won't get sales calls until you select an installer and share your phone number with them.
Your personalized solar quotes are easy to compare online and you'll get access to unbiased Energy Advisors to help you every step of the way. Get started here. –ad*
FTC: We use income earning auto affiliate links. More.