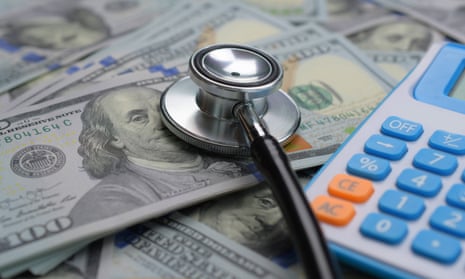 Nearly half of American adults faced medical bill issues in last year – survey
High-income Americans also almost as likely to defer healthcare over cost as people with low or average incomes in other countries
High-income Americans are almost as likely to defer healthcare because of cost as people with low or average incomes in eight other developed countries, a new survey brief by the Commonwealth Fund finds.
The survey findings also show that nearly half of American adults (46%) faced a problem with a medical bill in the last year, and almost half with low or average incomes (46%) skipped or delayed needed care because of price – the highest rate in any of nine countries analyzed.
"In some cases, lower-income people in other countries are better off than higher-income Americans," said Munira Gunja, lead author of the study and senior researcher at the Commonwealth Fund , though both "lower-income and higher-income adults both really struggle to use their healthcare".
The findings come from the Commonwealth Fund, a non-profit that has produced several frequently cited comparative international health analyses, and are part of the group's 2023 International Health Policy Survey.
The result come as the Federal Reserve, and central banks around the world, are battling post-pandemic inflation. Inflation slowed to 3.2% in October 2023, but that is unlikely to give Americans much breathing room on health expenses. The cost of healthcare typically outpaces inflation, and since 1980s has consumed an ever-increasing share of GDP.
The Commonwealth Fund asked a long list of questions about healthcare and income for the survey, which typically has a different focus each year. This year, surveyors focused on the general adult population 18 and older in each country. Notably, because of data privacy restrictions in Sweden, only nine countries made it into the final analysis. The report is the first of several survey briefs.
The US fared poorly on accessibility metrics in general, but perhaps most surprising is how even high-income Americans are disadvantaged by healthcare prices relative to other nations. Almost one-third of high-income Americans (29%) said they skipped or delayed care – such as filling a prescription or undergoing a test – because of a cost-related problem in the last year.
That was roughly comparable to the number of high-income earners in Australia who postponed care due to cost (25%), but far worse than the accessibility problems faced by high-income earners in France and the Netherlands, where just 6% skipped or delayed care.
Framed another way, high-income Americans were almost as likely to delay or skip healthcare as low- and average-income people in New Zealand (34%) and Australia (33%); more likely to postpone care than low- and average-income people in Switzerland (28%) and Canada (24%); and far more likely to put off healthcare than people in France, Germany, the Netherlands and the United Kingdom (all 16%).
What's more, while all nations surveyed had disparities in health access between income levels, those disparities were most pronounced in the US with low- and average-income people the most likely to skip or delay care of people in any nation surveyed (46%).
The US is also the only nation surveyed without guaranteed universal health coverage for every citizen – in other words, everyone in the other countries is "insured". About 8% of Americans lack health insurance, leaving them vulnerable to ruinous medical bills. Notably, the current uninsured rate in the US – the worst in the developed world – is at a historic low.
"Having coverage is not enough," she said. "Even if you have health insurance you may be terrified of actually using it – you may be terrified of going to the doctor and ending up with a medical bill you never expected in the mail."
Decades of research shows the US health system is both wildly expensive and inefficient. Internationally, it has been seen as a kind of "bogeyman" and as a way not to structure a health system, according to the late Princeton University health economist Uwe Reinhardt.
A staggering 18% of US GDP goes to healthcare spending, the highest in the world, and the logical result of the highest healthcare prices of any nation. By comparison, a separate 2022 analysis by the Commonwealth Fund showed 13 developed economies spent between 8.8% (Korea) and 12.8% (Germany) on healthcare.
Despite runaway spending, Americans also have among the worst outcomes. Recent work by population researchers at Virginia Commonwealth University, found US life expectancy has slipped for decades and now ranks 46th among 200 nations.
People in the UK had among the best rates of access to care. There, 16% of respondents with low or average incomes and 10% of respondents with high incomes said they faced a financial problem accessing healthcare. Only high-income earners in Germany, the Netherlands and France fared better, with 6% in all countries reporting a cost-related care issue.
Explore more on these topics