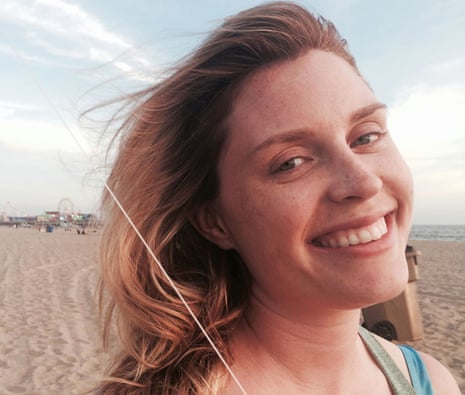 Dying woman's last wish: to pay off others' medical debt – $15m worth
Casey McIntyre died from cancer on 12 November, but she devised a plan to cancel the medical debt of others as a parting gift
Facing death from ovarian cancer at 38, Casey McIntyre devised a plan to transform her misfortune into a blessing for strangers.
The New York City book publisher arranged to use money raised in her memory to buy up the medical debt of others – and then pay it off, according to a website which assisted her philanthropic effort and as of Friday had collected nearly all of her six-figure goal.
"A note to my friends: If you're reading this, I have passed away," read a recent post on McIntyre's account at X – the social media platform formerly known as Twitter – which partly served to detail her campaign. "I'm so sorry. It's horseshit and we both know it. The cause was stage four ovarian cancer."
After describing how much she, her family and her friends loved each other, McIntyre's account linked to her campaign at RIP Medical Debt's website. Her accompanying farewell message added: "To celebrate my life, I've arranged to buy up others' medical debt and then destroy the debt. I am so lucky to have had access to the best medical care at [the Memorial Sloan Kettering Cancer Center in New York] and am keenly aware that so many in our country don't have access to good care."
McIntyre's magnanimous gesture – as she was taken at a young age on 12 November from her husband and their young daughter – has had tangible results, if RIP Medical Debt's figures are any indication.
As of late Friday morning, her campaign with the New York-based nonprofit had raised nearly $140,000 of her $150,000 goal, amid a climate in which an estimated 100 million Americans are saddled with a total of about $195bn in medical debt.
The US does not offer a universal healthcare system for its citizens.
Donations to RIP Medical Debt poured in by the minute as McIntyre's story went viral on media channels that spotlight uplifting news.
The group's website said that every $100 raised helps alleviate $10,000 in medical debt, which means that McIntyre's goal of $150,000 in donations could cancel $15m worth of others' medical debt. A quarter of American adults with healthcare debt owe more than $5,000, a Kaiser Family Foundation poll found last year.
Before her final act of kindness, McIntyre earned her living as a publisher at Razorbill, an imprint of Penguin Random House. Her passion was publishing works for young readers and she "saw herself in every child sprawled out on a couch, rug, or bunk bed engrossed in their latest book obsession", read her campaign page at RIP Medical Debt.
She was also a devotee of beach trips and karaoke, initiating most of her singing sessions with her own rendition of Bonnie Raitt's Something to Talk About.
McIntyre died on 12 November after a previously diagnosed, advanced ovarian cancer recurred, a statement on X indicated. The statement said McIntyre spent five months in home hospice care visiting with her family and friends from Virginia, Rhode Island and New York.
Loved ones of McIntyre have scheduled a memorial for her on 2 December at Brooklyn's Prospect Park.
This article was amended on 17 November 2023 to clarify the source of the funds to be used to pay off medical debt.
Explore more on these topics